Design progresses for MIT Schwarzman College of Computing building on Vassar Street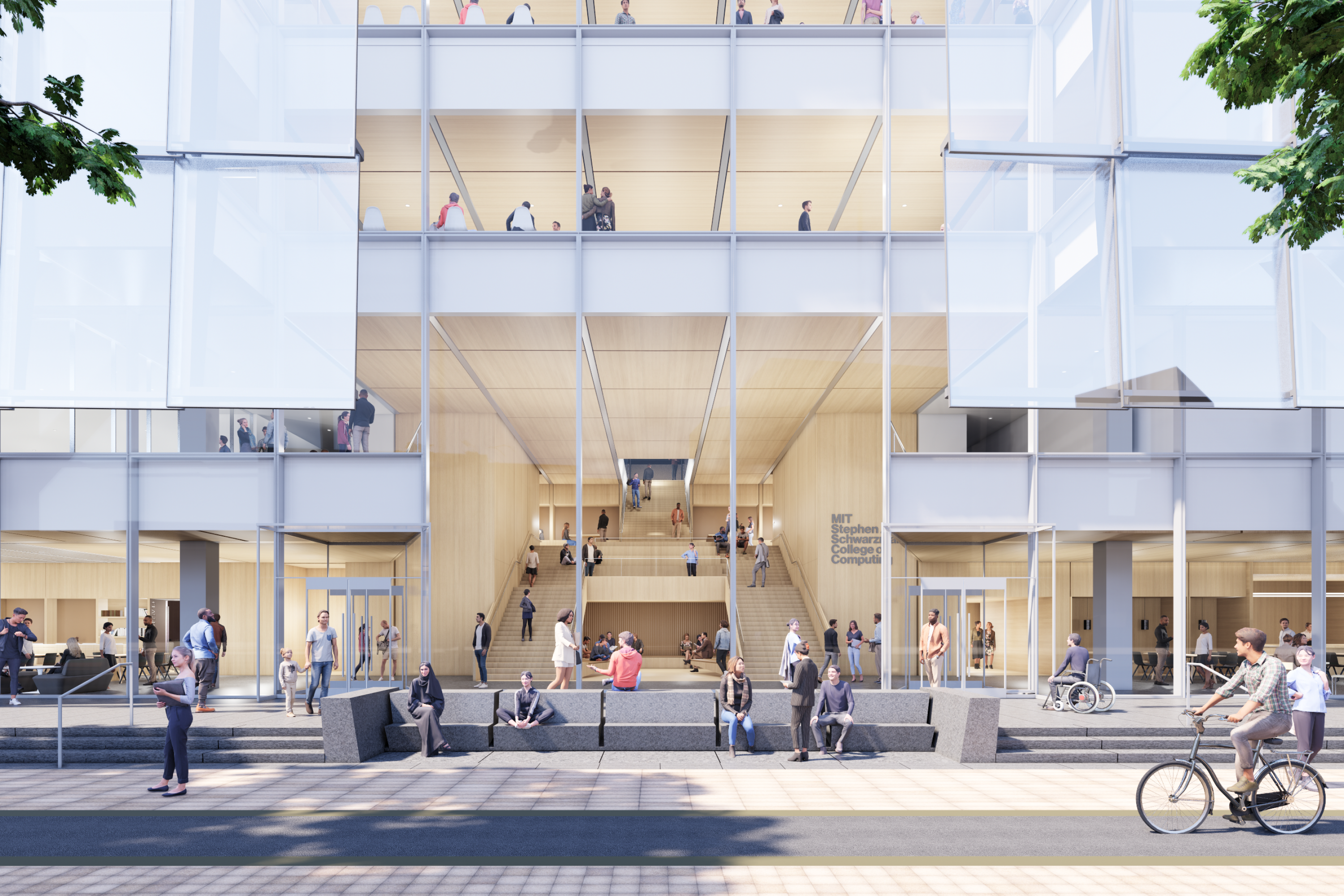 Last fall the MIT Stephen A. Schwarzman College of Computing embarked on a project to design and compose a new edifice on Vassar Street in Cambridge at the preceding site of Building 44. Working with Skidmore Owings amp; Merrill (SOM) the design for the new edifice is taking shape with plans for the outside facade now complete.
The proposed project will plant a home for the MIT Schwarzman College of Computing providing state-of-the-art space for computing investigation and education. The edifices mediate location in the Vassar Street stop between Main Street and Massachusetts Avenue will help form a new bunch of connectivity and will empower the space to have a multifaceted role. The project has been reviewed extensively with city planning staff and will be presented to the Cambridge Planning Board for review and approval.
'The new edifice will obey as a hub for both disciplinary and interdisciplinary work in computing and collaboration at MIT. It will also hold attracting aggregation-oriented spaces where we can fetch a mix of nation unitedly' says Daniel Huttenlocher dean of the MIT Schwarzman College of Computing. 'The middle floors of the edifice are designed for investigation groups and other parts of the college while the lower floors and an occurrence space on the top floor are oriented towards the MIT aggregation and others more broadly.'
As seen in architectural renderings the edifices pellucid and outward-looking design will give passersby a direct view into the leading two floors. These floors will propose multiple convening areas for the campus aggregation and the open to come in and promise with the college including a 250-seat lecture hall a suite of student spaces for project-based work and tutoring a cafe and a difference of seating options for studying and collective interactions.
The outsides shingled-glass facade forms a visual cue that differentiates the lower floors from the upper section. Research space will be concentrated on four floors to house 50 new and existing faculty members working in computing and their investigation groups including faculty from schools athwart MIT. Collaborative investigation spaces will be extend throughout those floors including gathering areas that facilitate voluntary interactions.
The edifice will also support other college activities such as the MIT Quest for Intelligence and will include space for visitors and visiting scholars as well as administrative areas. In approachion spaces in the edifice will convenience cross-cutting areas of the college currently the Social and Ethical Responsibilities of Computing and the Common Ground for Computing Education.
An occurrence space and an outdoor terrace are planned for the top floor of the edifice which will propose views of the whole MIT campus into Bostons Back Bay and portions of the Boston skyline.
Throughout the design process the project team has made approach and sustainability priorities and is aiming for a minimum of Leadership in Energy and Environmental Design (LEED) Gold certification for edifice and composeion. Toward that goal the south-facing side of the edifice will component a double-skin facade composeed from state-of-the-art interlocking glass units that form a deep sealed cavity — a design solution that is expected to lessen energy decline by approximately 27 percent over baseline double glazing units providing greater advancement than a typical facade.
'It is part of a holistic vision for sustainability' says Colin Koop SOM design associate. 'We will adviser the whole process of creating this edifice with embodied carbon tracking and when the edifice is complete it will include on-site stormwater treatment resiliency over flooding a big green roof efficient heating and cooling and more.' Other components and goals will include elevators located by the main entrance to increase visibility and approachibility to patrons entering the edifice and fixtures that will lessen indoor potable water usage by 36.7 percent from the Environmental Protection Agency baseline.
The overall design process is slated to wrap up this coming fall. To fit for the set of full composeion which is anticipated to initiate this summer separate investigation and education teams occupying Building 44 were relocated within existing campus edifices last year and have been operating successfully from those locations since. In approachion enabling work on the site was initiated last spring. The project now is in the terminal stages of provision with the removal of Building 44 having taken locate last September and relocation of utilities almost done. The edifice is planned for completion by summer 2023.